Comprehensive Visual Boiler Inspections
PSA field engineers visually inspect and evaluate the condition of chemical recovery, power, cogeneration, HRSG and utility boilers and their immediate auxiliary support systems. PSA has experience with units from all major manufacturers, firing a variety of solid, liquid and gaseous fuels. Drawing upon extensive operations and maintenance backgrounds, PSA engineers know where to look to identify problems that could adversely affect unit safety, reliability or efficiency.
Non-Destructive Examination
PSA performs several methods of non-destructive examination, including:
Liquid Penetrant (PT) Testing
Magnetic Particle (MT) Testing
Ultrasonic Thickness (UT) Testing
IRIS Immersion Testing
Analyst ND Testing
Water System Auditing Services
PSA engineers utilize a unique water systems data acquisition methodology to evaluate how thermal, chemical, mechanical, operational, safety and environmental factors impact upon system efficiency. As part of PSA's water system auditing services, PSA also assesses the reliability and availability of key system components, prioritizing areas of concern that may impact upon system performance, reliability, and productivity, and provides recommendations for equipment and process upgrades.
Boiler System Auditing Services:
PSA's recovery boiler system safety audit program is based on a comprehensive audit guidebook which has been developed by PSA and is based on BLRBAC and AF&PA guidelines. The personnel who perform PSA's audits have well-rounded experience in operation, maintenance, visual inspection, non-destructive examination, and water treatment of recovery boilers and their associated systems, and have been conducting annual recovery boiler audits with mills in the United States and Canada for over a decade.  In addition, PSA also provides "Focus Audits," specialty audits, specifically tailored for clients, concentrating on a particular facet of the boiler and or discipline, such as training and procedures, operations, instrumentation and controls, maintenance, NDE, boiler physical condition, or structural condition.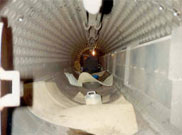 Quality Assurance/ Quality Control (QA/QC) Services
The following are some of the QA/QC services PSA offers to clients:
Contractor Selection Assistance
Outage Preparation and Outage Assistance
Shop Reviews
Tank Inspections
Boiler System Performance Optimization Services
PSA offers a wide range of services to improve and enhance boiler and auxiliary system performance. Included in those services are:
Boiler Efficiency Improvement
Air System Optimization
Burner System Balancing